Yesterday, I launched into a wandering and long-overdue meditation on the whiskies that, for me, made the long, grisly winter of '12-'13 endurable. Yesterday's post covered bourbon; today, it's all about the Scots and the Irish.
When looking back on brown-booze season, it wasn't all a bourbony blur around here. These are a few approachable, available and affordable whiskies that helped me span the gap between October and April.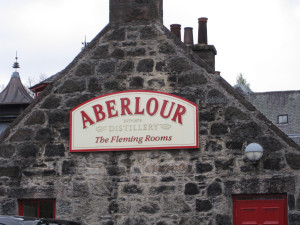 * Aberlour A'Bunadh —  I was pitifully ignorant of Aberlour before 2012, but the happy coincidence of a visit to Seattle by Aberlour brand ambassador Ann Miller, and a visit of my own to the distillery last spring, made me a fan of this whisky.
The 10 year is a perfectly agreeable Speyside malt, a mix of whiskies matured in bourbon casks and olorosso butts (the same goes for its older kin), but A'bunadh is where Aberlour really shines: cask-strength, un-chill-filtered and entirely sherry aged, the whisky is silky and rich, with touches of chocolate and cherries and honey and all those reassuring flavors that remind you that, even in the depth of a blustery winter, liquid compassion can still be found.
* Dalmore 18 — A few years ago, I spent a day driving across the Scottish Highlands in a van with Richard Paterson, the master blender for Whyte & Mackay who deserves much of the credit for this whisky's nonstop deliciousness. We drove from Edinburgh to the Dalmore distillery, blurry and beaten (at least I was) from a long night of oversampling the Dalmore Mackenzie expression. At the Dalmore, we tasted a handful of whiskies (including a particularly rare one that Richard dispensed by the dropper), poked around in the barrel warehouses, then skedaddled back to Glasgow before nightfall.
My head still faintly aches from that first, long night, but what I recall from the journey — and the reason the Dalmore 18 has earned a spot in my regular winter rotation — is the whisky's oily lushness, its balance of coarse earthiness and bold fruit. All of the expressions of the Dalmore have this to some extent, but the 18 walks a particularly fine line between the soft nature of wildflowers and honey that you find in so many Highland malts, and the blustery ruggedness that's bold enough to bolster you through the worst winter days, while retaining enough freshness of spirit to remind you of better times to come.
Bourbon is for shaking off the chill and settling into the comforting warmth indoors; malts like the Dalmore 18 help you pull the coat more tightly around your shoulders, and tell the wind and rain that they can just fuck off for today.
* Pretty much anything from Highland Park — Highland Park is the most Game of Thrones of whiskies.
Think about it: They're making whisky at the northernmost distillery in Scotland, so they'd better know a thing or two about dark and cold and how to keep them at bay. Highland Park's answer is to lace the spirit with just a mild lashing of smoke — not enough to make the whisky a brawling brute like the peaty bastards from Islay (though there's plenty of room for those in winter, of course) — but enough to blow a little air on the embers of a drinker's insides, a bold (but not too much) shove back against winter that can fan the flames in mind and body while soothing the season's restlessness with honey, and grass, and toasted nuts and fruits.
My mainstay this past winter was the basic HP12. Why the 12 year? Because it's what I have, and it works, and I can afford it. Go for the higher range if your inclination and your wallet allow — there is no disappointment to be found here.
* Redbreast 15 year — Because when St. Patrick's Day rolls around, green beer is for suckers.
Redbreast has a lightness of character like the rest of its Irish brethren, but it also knows how to land a punch, its gentle flavors of honey and grass matched with a robust oiliness. Redbreast 15 year is as comforting as having breakfast with your grandmother, but as serious as having breakfast with the grandmother who can kill a mouse by flinging her shoe across the room at it without taking her eyes off the story she's reading to the kids.*
(* actual example from my actual grandmother, who to the best of my knowledge never drank a drop of Irish whiskey.)