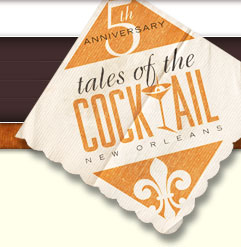 After spending the past six months sighing about what a great time I had in New Orleans last summer, I was excited to see that the schedule was posted today for the next round of the greatest cocktail-related event of the year: Tales of the Cocktail 2007, at the Hotel Monteleone and various venues around the French Quarter, July 18-22. (For a recap of my experiences last year, check out my reports from day one, day two, day three and day four.)
Now in its fifth year, Tales is primed to be bigger than ever. Details will no doubt continue to trickle in over the next few months, but the overall schedule is pretty damn impressive. Among the events that are already getting me excited are:
a history-laden cocktail session at the Napoleon House, led by David Wondrich
a panel on the rise, fall, and rise again of rum, led by Wayne Curtis
Thursday's excellent cocktail hour and Spirited Dinners
a panel on craft distilling, with Ryan Magarian, Jared Brown, Anistatia Miller and Lenell Smothers
a session on aromatics, led by Audrey Saunders
a panel on Prohibition and its aftermath, with Robert Hess, Dale DeGroff, Ted "Dr. Cocktail" Haigh, John Hall and Chris MacMillian
a vermouth discussion, with Ted Haigh and Martin Douderoff
Tiki drinks from A to Zombie, with Jeff "Beachbum" Berry
an encore presentation of Ted Breaux' absinthe session, and another of Dale DeGroff's epic tequila talk, both from last year
a Saturday session on rye whiskey, which — DAMMIT! –unfortunately coincides with another panel discussion, mentioned below
Not content to let me simply hang out and mooch free food and drinks, organizers this year are putting me to work. Right now I'm slated to take part in one panel discussion, and moderate another; I may pop up somewhere else, as well, clearing tables and washing glasses, or prattling on about something or other.
The sessions are:
a Thursday panel on Lost Ingredients: Obtaining (or making) rare ingredients for even rarer cocktails, moderated by the good Dr. Cocktail and including Joe Fee from Fee Brothers, Gwydion Stone from the Wormwood Society, Chuck Taggart from the Gumbo Pages, and your humble narrator. According to the overview, the panel explores how to "reproduce uncommon (and wonderful) cocktail flavoring ingredients with obscure vintage recipes and forge into the future with new and original recipes. The rarified components of the seminar include Falernum, Bitters, Pimento Dram, Creme de Violette, Forbidden Fruit, Pomegranate Grenadine, Absinthe and Swedish Punch." Considering I've been hotly pursuing at least one item on the list, and have only recently satisfied my search for another, I hope to learn a lot while, hopefully, passing along something helpful as well.
a Saturday panel on — wait for it — Cocktails and the Blogosphere (currently typo-ed on the Tales website as "Blogoshpere," which seems kind of fitting as that's the way I pronounce it after a few Manhattans). Yes, for all you folks out there following the RSS feeds of the growing number of booze blogs now populating the Internet, you can come to New Orleans in July and put faces with a few of the sites. Joining me on this grand endeavor will be my esteemed colleagues Chuck Taggart (there he is again!) from the Gumbo Pages; Darcy O'Neil from The Art of Drink; and Rick Stutz from Kaiser Penguin. What will we talk about? What will we do? Who knows! Anyway, we've got almost six months to work that out. As there are now many more cocktail bloggers on the Web than there are seats available at the table, I'd like to invite any and all of our booze-blogging brethren to come see us at this event, then do a massive rum-soaked posting afterwards that will have the larger cocktail-blog readership reaching for the Tylenol and tomato juice the next morning.
My photo and bio aren't on the "Authors, Mixologists & VIPs" page yet — mainly because I haven't sent them yet (maybe I should write that down somewhere…) — but if you look really close at the itsy-bitsy image next to the "Picture Gallery" link, you can see a shot of me at last year's event, only slightly hungover and waiting for my breakfast. (Or, you can venture into the gallery and see a fetching shot of my left ear as it waits for a sample of absinthe).
I'm sure I'll mention it again (and again, and again) in the months to come, but for any self-respecting cocktail geek — or even just any curious booze enthusiast — New Orleans is the place to be for this event. Food, cocktails, and lots of people in town for the very same thing — Tales of the Cocktail is an event that you should start planning for now.
Tickets will be available in March, and special room packages at the Monteleone make the event surprisingly affordable. So mark your calendars and start looking at airfares — I hope to meet as many of you as I can in New Orleans this July.