Some cocktails are like caresses — smooth and soothing, with delicate touches that deftly flick away all the assorted troubles of the day.
But sometimes, tenderness isn't what's needed. Sometimes, a little savagery is entirely appropriate.
Dark, bitter drinks have become almost a cliché in today's cocktail world – and I say "almost," because no matter how commonplace these cocktails may become in the sprawling suburbia of faux speakeasies, and no matter how fawning we behave over mixtures of rye whiskey, small-batch vermouth and amari so obscure they only exist in the bartender's imagination, these brown, bitter and stirred drinks have one redeeming factor that will always keep them relevant: many of them, if not most, are just so fucking delicious.
I vacillate in my taste for these kinds of rough, boozy drinks. For months on end, I'll venture little further into the realm than the occasional Manhattan or Boulevardier (I'm exempting the Negroni from this argument, with its base of gin, along with other, softer-though-still-bitter aperitifs, which I swill pretty much always), then something will grab my attention – the acquisition of a new amaro, a change in the seasons – and I'll happily roll in the cocktail-geek muck again, if only for a little while.
The season's gradually shifting here in Seattle, so that's been impetus enough to dig the brown booze out of summer storage along with my sweaters and winter coat; and with the arrival of a recent box of goodies from an online booze outlet – Washington-state liquor prices having become obnoxiously high following our privatization debacle – I've found motivation enough to fall back into my old BBS (brown/bitter/stirred) habits.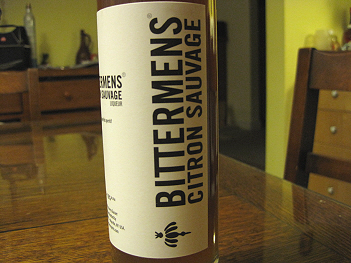 The newbie in my house now is Bittermens Citron Sauvage liqueur. I've long been a fan of the products from Avery & Janet Glasser – I was evangelizing about their bitters long before they were commercially available, and continue to be impressed by everything of theirs I've tasted – and, as someone who thinks the bitter complexity of grapefruit is one of the cocktail world's less-explored avenues of wonder, I made sure Bittermens' grapefruit liqueur made it into my order.
I'm only just starting to play around with it – save your sneering, East Coast barfolk, it takes a while to get these things out West – but here's a simple little Red Hook-style riff that I've come back to a couple of times, with no complaints.
The Awkward Pause

2 oz. reposado tequila
3/4 oz. Punt e Mes
1/2 oz. Bittermens Citron Sauvage liqueur
2 dashes Bittermens Xocolatl Mole bitters

Combine ingredients in a mixing glass and fill with ice. Stir until chilled, about 30 seconds; strain into chilled cocktail glass. Twist a thin piece of orange peel over the drink for aromatics; use as garnish.
Tequila + grapefruit = obvious yum, the Punt e Mes bumps up the bitter quotient without being too pushy, and the bitters give hints of cinnamon and chile that seemed like a good idea at the time.
Given that the Red Hook is now long in the tooth, this isn't the most original drink, but hey – simple variations often have a longer life span than do more daring ventures, so I'll stick with it. And the name? If you've ever attempted to have a conversation with preternaturally shy me, it should make perfect sense.
Anyway, thumbs-up for the grapefruit liqueur – the only drawback is now I need to clear space in the crowded liquor cabinet for another keeper bottle.